BANG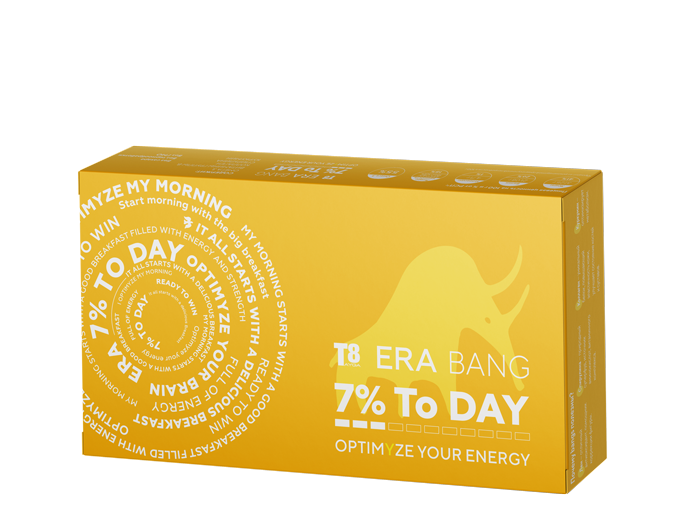 Т8 ERA BANG
Т8 BANG is a healthy and nutritious snack based on linum, spirulina and curcuma for those who live an active life.

BUY
This is a perfect product for those who:
- follow LCHF diet
- look for the source of power for their brain and body
- want to improve mental acuity
- discovered the LC FOOD era
- chose LC food for a quick snack
- chose LC rhythms of the megapolis life
- work with their mind and relax in a gym
- think that the youth is the main resource

Why are BANGs healthy?
1. Linum is a perfect antioxidant and body sculpting tool.
2. Spirulina is a natural super food, the source of amino acids, and the complex of vitamins.
3. Curcumin helps to optimize metabolism.
4. Collagen is a unique protein that improves the skin's elasticity, bones and joints condition.
Состав: Omega 3, Vitamin B Complex, Collagen, Spirulina, Curcuma. Sugars and GMO, no heat treatment used.
Nutrition Facts per 100 g and % of DV*
Proteins – 21,08 g 26%
Fats – 37,25 g 41%
Carbohydrates – 4,71 g 1%
Calories – 444 kCal/1860 kJ 18%
Omega 3 – 55%
*The % Daily Value is how much a nutrient in 100 g contributes to a daily diet.
Shelf Life: ten months from the date of production.
Storage: store at a temperature below +25°C in a dry place.
Contraindications: individual hypersensitiveness to any of the ingredients
Weight: 150 g