Up-U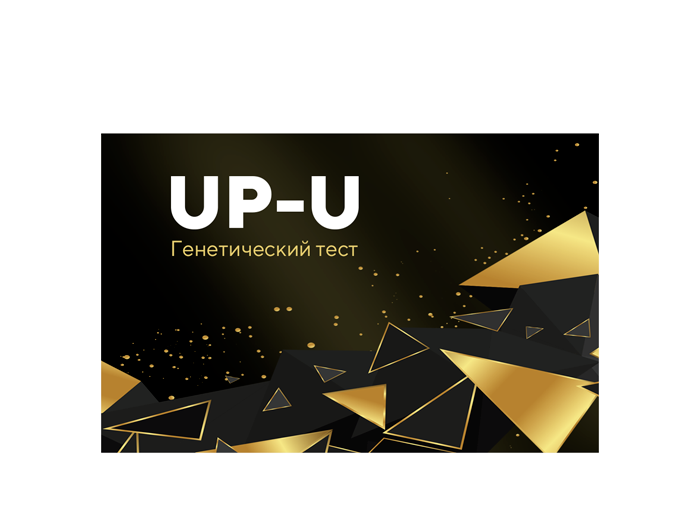 We know how to increase your daily productivity by 20% and discover your internal resources; prevent dangerous diseases and what to focus on in your daily habits.
Seven gens will warn you about possible diseases related to your food culture, lifestyle and stress:
1. TCF7L2 – this gen shows how stable the regulatory mechanisms of your carbohydrate metabolism are and if there is a risk of getting diabetes or excessive weight.

2. ADRB2 – shows how the regulatory mechanisms of carbohydrate and fat metabolism work on the part of stress-realizing systems.

3. PPARG – regulates fat storage and glucose metabolism.

4. COMT – codes an enzyme which regulates the activity of adrenaline, noradrenaline, dopamine, the level of which affects many psychological functions.

5. APOE – codes a special protein which takes part in the metabolism of triglycerides and cholesterol.

6. MTHFR – codes an enzyme which takes part in the formation of methionine, an amino acid. Methionine is a powerful antioxidant protecting gens from mutations.

7. UGT1A1 – takes part in the formation of an enzyme which decontaminates toxic molecules from the external environment, or own metabolites of the body; takes part in decontamination of all medicines and toxins entering the body.
UP-U decodes your DNA, and specially for you, our experts chose products that will suit your diet style. And knowing the traits of your genetics will become a unique tool to manage your abilities.
Have your UP-U genetic testing, get to know yourself and take control of managing abilities of your body!
How can I have genetic testing?
1. Buy a set for the collection of genetic material

2. Collect genetic material according to the instructions

3. Put viscose swab buds in an individual packet

4. Pay the cost of testing

5. The order ID of your testing purchase must be written on the envelope (in a special field only)

6. Send materials to 630007, Novosibirsk, ul. Kommunisticheskaya 40, BC Most, to Nikolay Usynin, office 1102. (Sending is made at the expense of the sender)

7. Wait for the results within 21 days* to your e-mail
*from the moment the Company receives your materials
Attention! To have your genetic testing, you are required to use our original set for the collection of genetic materials!
Price: RUB 7,990