SPLASH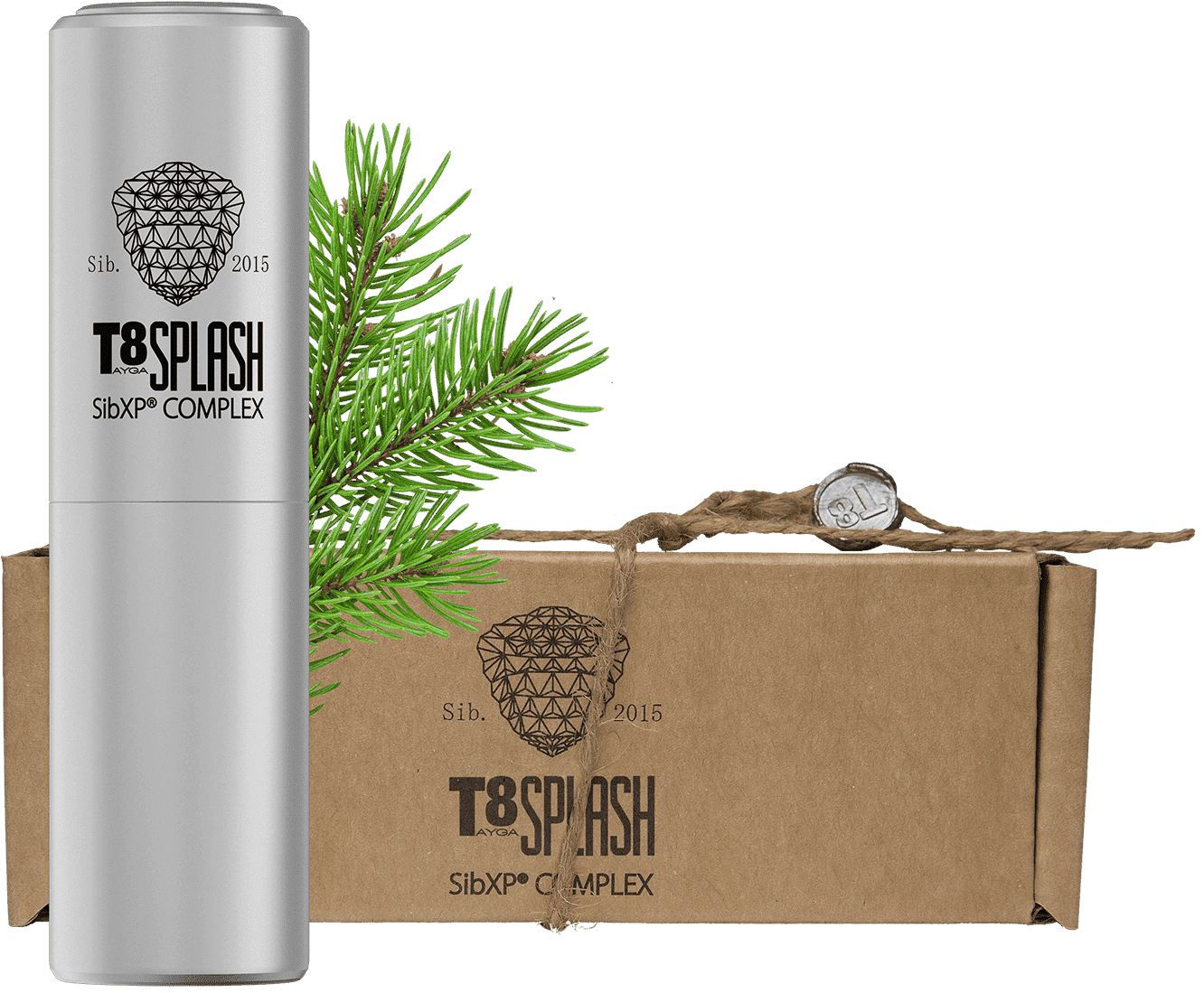 SPLASH
Т8 Splash – SibXP®Complex + organic elements for the fast activation
Your energy and freshness splash!
Buy
Tayga8 in a fresh mode:
• Instant breath refreshing by menthol

• Freshness and vivacity every minute by lemongrass and ginseng

• Fresh, stylish packaging

• Restoration and optimization of energy exchange by adapted for use spray form of SibXP®Complex
Lemongrass
Is a "Berry of five tastes" from Far East, a plant with a delicate lemon taste quickly restores vital energy, increases the endurance of the body, tones and refreshes.
Ginseng
The famous "root of life", which returns youth and cheerfulness increases working capacity, reduces fatigue, activates the nervous system.
Menthol
Obtained from peppermint essential oil, it quickly and effectively freshens breath. Pleasant cool menthol perfectly combined with the tart conifer taste of Tayga8.
Polyprenols in the SibXP®Complex
Unique natural bioregulators from pine needles of Siberian trees increase the production of energy by each cell, restore the cellular structure, normalize the work of all organs and systems.
Cellular fir juice in SibXP®Complex
Intracellular fluid rich in useful substances from fresh fir legs increases the energy potential of cells, has a healing effect on the mucous membranes of the oral cavity.
Mode of application:
Rotate the lid of the bottle and spray under the tongue 2-3 times with the sprayer.
Use 3-5 times a day.
10 clicks on the nebulizer provide the body with a full day portion of polyprenols.

Contraindications:
• Individual intolerance of the components of the formulation.

• Pregnancy, lactation

• Age to 18 years

• Tendency to hypertension
Consist: aqua, sorbitol, cellularis succumb abies sibirica, polysorbat-80, polyprenols (85%), panax ginseng root extract, schisandra sphenanthera fruit extract, steviozid, menthol.
Сapacity 20 ml.