ViROMA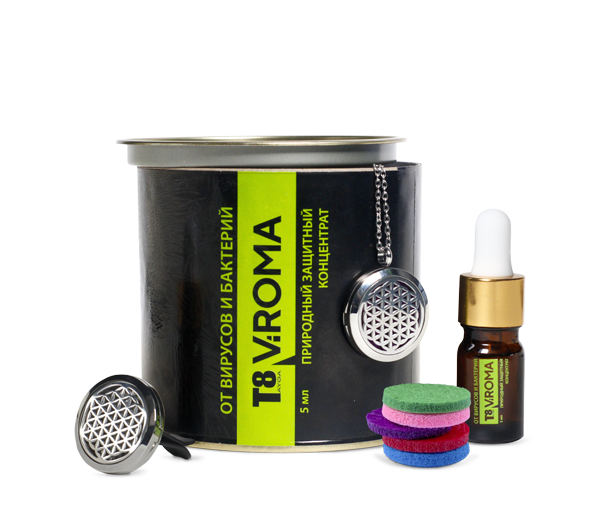 ViROMA
T8 ViRoma is a 100% natural protective concentrate against viruses and bacteria.

Buy
This is a unique complex based on plant extracts that creates an invisible barrier, providing prevention against viruses and bacteria.
How it works:
1. It creates an invisible barrier against viruses and bacteria,
2. It relieves sore throat, restores the nasal mucosa,
3. It helps to prevent colds and flu.
The active ingredients of T8 ViROMA help clear the airways, relieve sore throat, repair mucous membranes, and prevent runny nose and nasal congestion. Protection effect up to 8 hours.
Active ingredients:
Fir extract disinfects indoor air. Immune stimulating agent,
Pine extract has a softening effect on the respiratory system,
The spruce extract increases immunity,
Cedar extract has a tonic and antioxidant effect,
Ledum extract has an antimicrobial effect.
Ingredients: fir extract, pine extract, Picea abies, cedar extract, Ledum extract.
Use cases:
Aroma-pendant: add 3-4 drops (in the filter) and wear around the neck,
Holder for car: add 3-4 drops (in the filter) and attach to the air conditioner grill,
Add a few drops to the surface for cleaning and disinfecting the indoor air,
Add in the evaporator (aroma lamp, aroma diffuser, humidifier),
Apply on clothing (apply to the collar, napkin, pillow, pyjamas to improve sleep quality).
Safety precautions:
It is not designed for ingestion!
Do not use in case of individual intolerance to the components
Avoid contact with mucous membranes
Use gently on clothing as stains may occur.
Contraindications: individual intolerance to the components.
Storage conditions:
Store in a dry place, away from sunlight, at a temperature of 4 - 25 degrees
Keep out of reach of children.
Shelf life: 18 months.
Volume: 5 ml.
T8 ViROMA concentrate is sold separately from the set.