EXTRA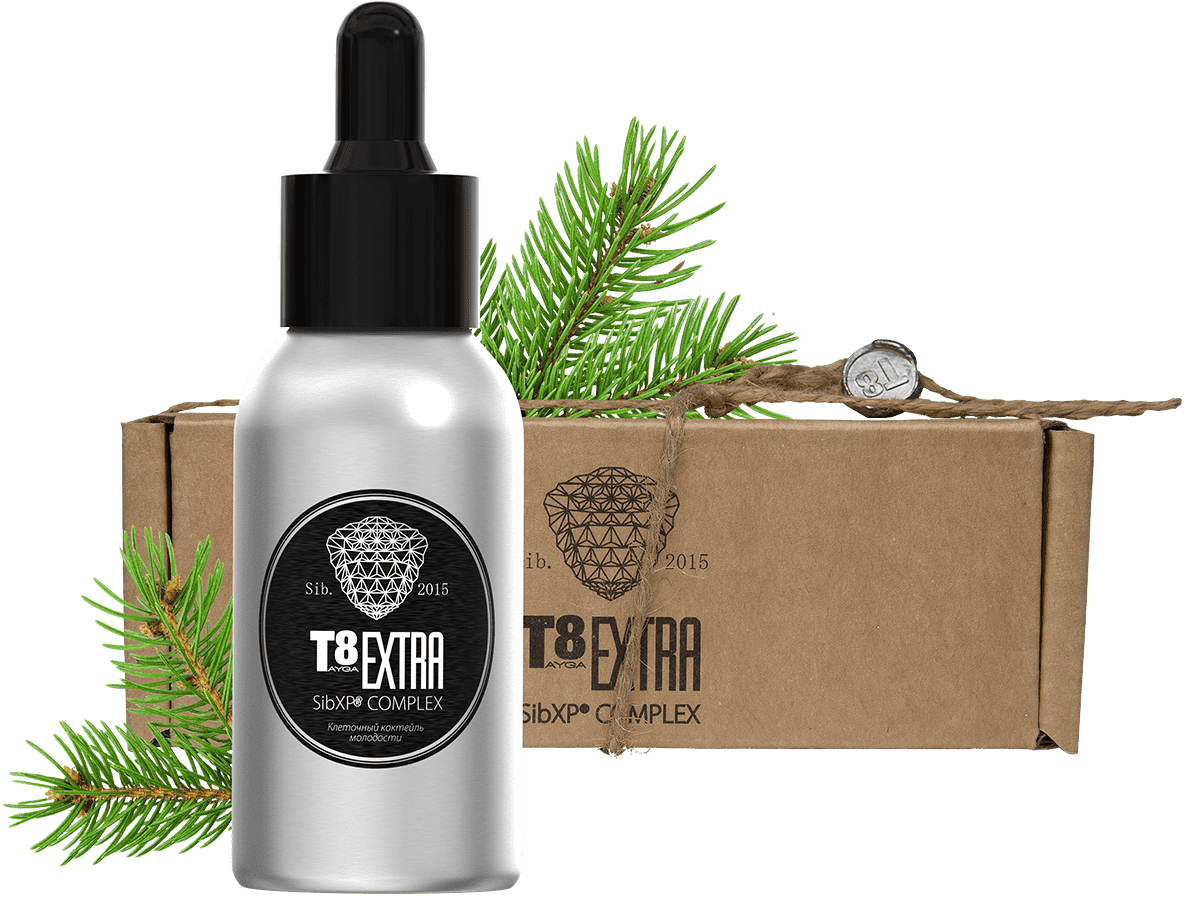 EXTRA
T8 Extra is a unique concentrate containing an increased amount of fir cell juice. With T8 Extra you can make an aromatic vitamin and energy drink of amazing conifer taste. This is a perfect choice for people leading an active life, for sportsmen and fitness fans.

Buy
T8 Extra is a concentrate based on SibXP Complex (polyprenols with an increased content of fir cell juice). T8 Extra will be a great solution for those who want to support their immune system and provide themselves with reliable protection from viral and bacterial infections.
In several clinical studies, polyprenols have proven their ability to stimulate the work of all parts of our immune system, helping it fight pathogens. But the T8 Extra complex is further enhanced by an increased amount of fir cell juice. This juice is a beautiful phytoncide, that is, a substance that has a destructive effect on viruses and bacteria. This effect of fir juice is based on a high concentration of boranyl acetate ester, which belongs to the class of terpenoids.
A daily intake of just 2 ml of T8 extra concentrate, dissolved in half a glass of water or any other liquid, will provide you with:
strengthening the body's natural immune defense against seasonal viral infections;
increased production of interferon – the main component of non-specific immunity;
preventing damage to cell membranes caused by free radicals;
optimal tissue oxygen saturation;
protection of liver cells from environmental toxins, as well as during course treatment with antibiotics;
a surge of energy and performance for the whole day.
Specialists have specially created a technology for processing raw materials, in which all the useful bioactive substances contained in live conifers remain unchanged. This means that you will receive them in full. Finally, T8 extra concentrate will make your drink unusual and very flavorful, filling it with a refreshing taste of taiga!
Т8 Extra:
Restores liver cells
Optimizes the systems of the body
Strengthens the barrier of the body against toxins
Activates the regeneration of cells
Improves reproductive function
Increases the resistance of the body to physical stress
Normalizes hormonal basis
Composition: SibXP Complex (Siberian fir cell juice, concentration of polyprenols (85%), CGNC coniferous complex).
NUTRITION FACTS
The nutritional value (in 100 ml. product)
1 portion (2 ml.)
Polyprenols
650 mg.
13 mg. (100% от РСП*)
Maltol
1960 mg.
39,2 mg.
Phenolic acids
240 mg.
4,8 mg.
Vitamin C
135 mg.
2,7 mg.
Iron
125 mg.
2,5 mg.
Flavonoids
80 mg.
1,6 mg.
Magnesium
0,37 mg.
Proteins
0 gm.
0 gm.
Fats
0 gm.
0 gm.
Carbohydrates
0 gm.
0 gm.
Energy value
0 kcal
0 kcal
Сapacity: 50 ml.
Daily consumption: 2 ml.