BRAIN OIL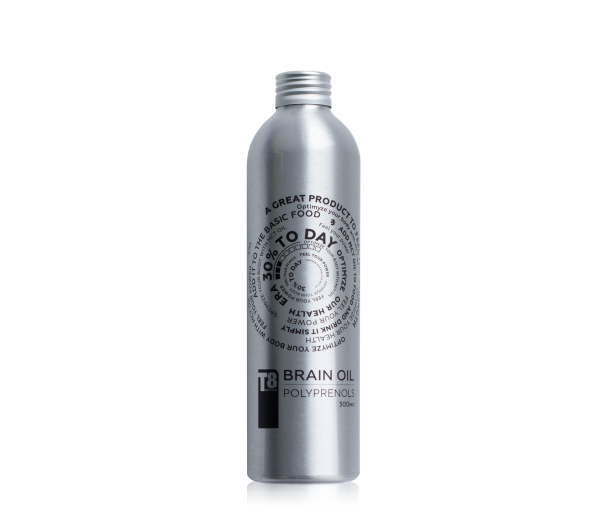 T8 ERA BRAIN OIL
T8 BRAIN OIL is vegetable oil with medium-chain triglycerides and polyprenols. This is the main product for those who want to enjoy having a slim body, healthy food and energy.
BUY
T8 ERA BRAIN OIL:
Activates brain work
Helps to lose weight
Helps to reach the state of ketosis
Recovers damaged cells
Improves metabolism
Is the source of energy
Optimizes antibacterial, antiviral and antifungal defense of the body
What are the advantages of ERA BRAIN OIL?
| | | | |
| --- | --- | --- | --- |
| Ingredients | ERA BRAIN OIL | TYPICAL OIL | COCONUT OIL |
| Caprylic acid (С8) | 70% | 20-60% | 8-13% |
| Capric acid (С10) | 30% | 20 - 40% | 5 - 7% |
| Content, the least ketogenic MCT (C12) | 0% | 30-50% | 45-65% |
| Polyprenols | 1/4* | | |
| t◦ cloud point | -12◦ | -12◦ | 25◦ |
* from the daily dose of polyprenols
It is important! T8 BRAIN OIL is a perfect balance of caprylic (С8) and capric (С10) acids (70% for 30%) which contributes to fast digestion, acts like energy booster, gives a powerful release of ketone bodies.
Polyprenols The product contains ¼ of the daily polyprenols rate, polyprenols recover damaged cells, increase metabolism.
Activity speed The speed of reactions and learning new information will increase due to the additional effects of polyprenols — improved transmission of nerve impulses and nootropic effect.
Microflora balance Caprylic and capric acids are essential for healthy balanced gut flora. Regular use of T8 BRAIN OIL normalizes microbiome.
Effect on cognitive functions1 Scientists from the Biomedical Research Center of Louisiana carried out experimental research on the effect of medium-chain triglycerides on the human brain. The research was carried out among people diagnosed with Alzheimer disease2. The scientists found out that daily consumption of MCT increased the number of ketone bodies. They noted the improvement of memory among the patients under test.
Effect on weight Independent research by Doctor Mumme KD3 from New Zealand showed that daily consumption of MCT oil caused mild weight loss.
T8 BRAIN OIL components and recommended use.
Ingredients: MCT Oil, Polyprenols.
Storage: Store in a dry place at room temperature. No special conditions for storage or transportation required.
Shelf Life: two years
Suggested Use:
1. 15 ml 2 times a day
2. Add to any dish
3. Add to drinks

Nutrition Facts:
| | |
| --- | --- |
| Nutrient | Per 100 g |
| Proteins | 0% |
| Fats | 100% |
| Carbohydrates | 0% |
| kCal | 833 kCal |
Volume: 280 ml
Studies:
1. Mumme KD, von Hurst PR, Study protocol: associations between dietary patterns, cognitive function and metabolic syndrome in older adults - a cross-sectional study.
2. Rebello CJ1, Keller JN2, Liu AG2, Johnson WD2, Greenway FL, Pilot feasibility and safety study examining the effect of medium chain triglyceride supplementation in subjects with mild cognitive impairment: A randomized controlled trial.
3. Mumme К, Stonehouse W., Effects of medium-chain triglycerides on weight loss and body composition: a meta-analysis of randomized controlled trials.