Vitamin D3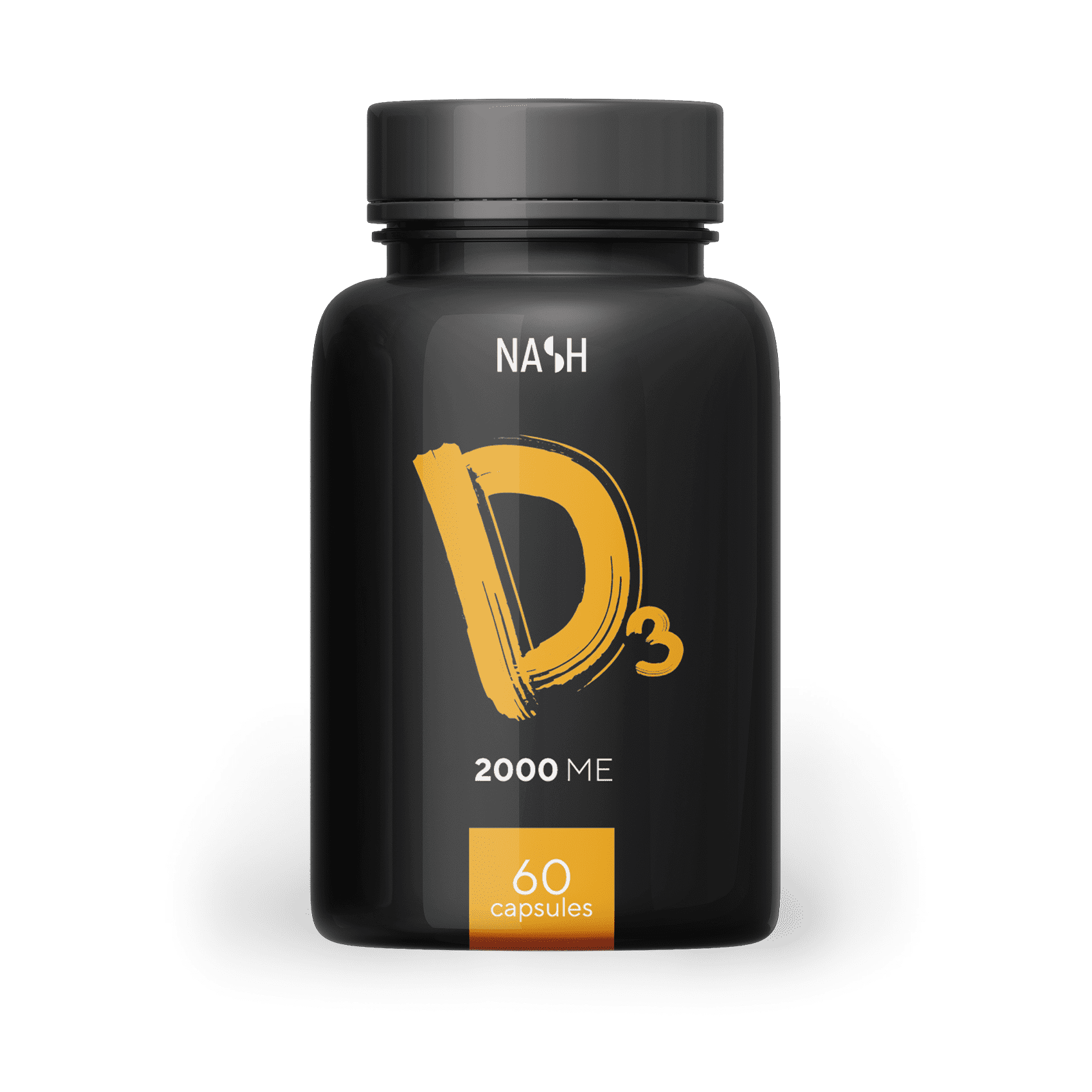 NASH Vitamin D3
NASH Vitamin D3 2000 MU is a bioavailable form of vitamin D necessary to compensate for the lack of vitamin D in the human body.
BUY
Why do I need to take this product?
Vitamin D3 is an important vitamin for supporting bones, which helps to absorb calcium in the body. Vitamin D3 deficiency leads to an increased risk of fractures, osteoporosis, muscle weakness, poor immune function, increased risk of infections and autoimmune diseases. 2000 MU is an effective daily dosage to make up for vitamin deficiency in one capsule.
The body produces a certain amount of vitamin D on its own when exposed to direct sunlight for several hours daily. But for people living in cities and northern latitudes, where exposure to the sun is limited, natural vitamin D in the body may often be insufficient. Our capsules solve this problem by providing an optimal dose of 2000 MU of vitamin D3, the biologically active fraction of vitamin D.
Taking vitamin D3 leads to the following benefits:
Reduces the risk of osteoporosis
Increases bone strength
Reduces the risk of respiratory diseases
Optimizes the intake of calcium and magnesium
Improves the state of carbohydrate metabolism
What is the peculiarity?
The biologically active supplement of the NASH line based on vitamin D3 contains a dosage of the active substance that compensates for the daily needs of the body.
What is included in the daily portion?
Vitamin D3 (cholecalciferol 0.25%) helps regulate the absorption of calcium, magnesium and phosphorus, affecting the metabolism of bone tissue, helping to strengthen and improve the condition of bones and teeth.
Magnesium salt of stearic acid is an auxiliary component, works as an antistatic agent, prevents the powder from sticking into lumps during encapsulation, makes the distribution of dosages of the active substance in capsules uniform.
Ingredients: vitamin D3 (cholecalciferol 0.25%), magnesium salt of stearic acid, capsule (gelatin).
| | | | |
| --- | --- | --- | --- |
| Biologically active substance | Content, mg in 1 capsule | Daily consumption, mg | % of daily consumption |
| Vitamin D3 | 0.05 | 0.005 ¹ | 1000 ² |
1 - recommended daily consumption level according to the requirements of TR CU 022 (Appendix 2)
2 - does not exceed the upper permissible daily consumption level.
Nutritional value per 100 g: 0 proteins, 0 fats, 0 carbohydrates, 0 kCal.
Contraindications: individual intolerance, pregnancy, breast-feeding, it is necessary to consult a doctor before taking it.
Method of use and dosage: adults take 1 capsule a day with meals for one month, if necessary, the course can be repeated.
Storage conditions: store in a dry place inaccessible to children at a temperature not exceeding 25 °C
Expiration date: 24 months.
Net weight: 21 grams.
BADS. It is not a medicinal product.