OMODEUS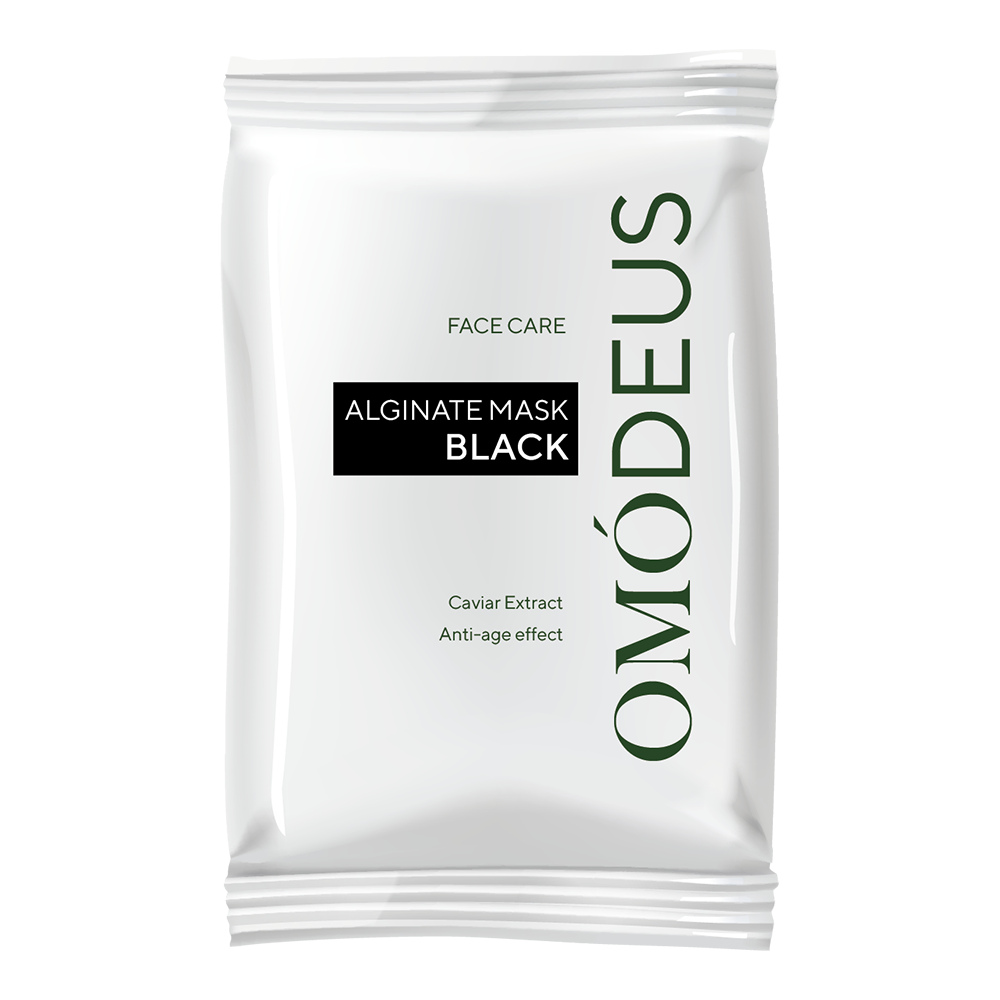 OMODEUS ALGINATE MASK BLACK
OMODEUS ALGINATE MASK BLACK — is an alginate mask with caviar extract for immediate anti-age effect.
BUY
Product Description and its advantages:
OMODEUS alginate masks were developed with the participation of scientists, cosmetologists and beauty experts. The masks contain valuable cosmetic constituents such as alginate, colloidal gold, caviar extract as a part of Hydrolyzed Roe, polyglucuronic acid and FulXP®Complex. Suitable for all skin types.
OMODEUS alginate masks provide a variety of beneficial effects including removing toxins from the skin, improving blood microcirculation, stimulating cell regeneration, deep hydration, smoothing wrinkles, and correcting facial contour.
Masks containing colloidal gold and caviar extract give apparent result after the first use. Maximum effect is achieved when using an alginate mask by course — 1-2 times a week (up to 12 procedures). Regular use slows aging down: improves skin elasticity and firmness, slows down the appearance of age-related wrinkles.
What you will get after using OMODEUS ALGINATE MASK BLACK:
The skin tone improves, it is protected from oxidative stress, and it becomes noticeably more toned, resulting in a clear facial contour and a lifting effect.
Reduction of wrinkles: skin microrelief improves, its elasticity increases.
Healing: redness and inflammation decrease and the skin is actively recovered.
Active constituents:
Caviar extract in Hydrolyzed Roe is a powerful anti-aging component. It has a rejuvenating effect, stimulates natural collagen and elastin synthesis, slows down the appearance of age-related wrinkles, restores tone and contours the face, activates mitochondrial processes in skin cells, stimulating their regeneration, and promotes tissue repair.

Caviar extract in OMODEUS ALGINATE MASK BLACK mask is rich in minerals such as magnesium, phosphorus, sodium, iron, as well as vitamins A, D, and E. They protect the skin from free radicals impact, negative environmental effects and premature aging.

Omega-3 and omega-6 fatty acids, which are found in caviar extract, help to increase the skin's barrier function. They restore skin integrity, intensively nourish the skin and improve its tone.

FulXP®Complex is an antioxidant that improves skin resistance to urban stress.
Alginate is a natural component derived from brown algae that contains hyaluronic and alginic acids, as well as vitamins, minerals and protein. It boosts the skin's barrier function, stimulates the lifting effect, and improves blood circulation.

It is the rich content of the listed nutrients that contributes to the simultaneous solution of several tasks: the components deeply moisturize the skin, soothe it and have a rejuvenating effect. Alginate masks also have another advantage: they are suitable for all skin types.
How to use: remove makeup and exterior pollutants from the skin. Mix 15 g of powder with 50 ml of room temperature (no more than + 20°C) water in a container and mix until uniform, creamy consistency. Take a horizontal position and apply the mask with a layer of 2-3 mm. Remove the mask in one motion from bottom to top after 30 minutes.
Prepared mixture hardens quickly. Apply immediately after preparation.The packaging is intended for single use.
Ingredients: Solum diatomeae, Calcium sulfate, Algin, Tetrasodium pyrophosphate, Galactoarabinan, Sodium ascorbate, Amylodextrin, Water, Glycerin, Hydrolyzed Roe, Glycosaminoglycans, Glycogen, Е153, FulXP®Complex, Parfum.
Contraindications: individual components intolerance.
Net weight: 15 g.
Storage conditions: keep away from sunlight at a temperature not more than +25°C.
Manufacturing country: Russia.
Shelf life: 2 years from the manufacture date, which is printed on the packaging.