Magnesium + B6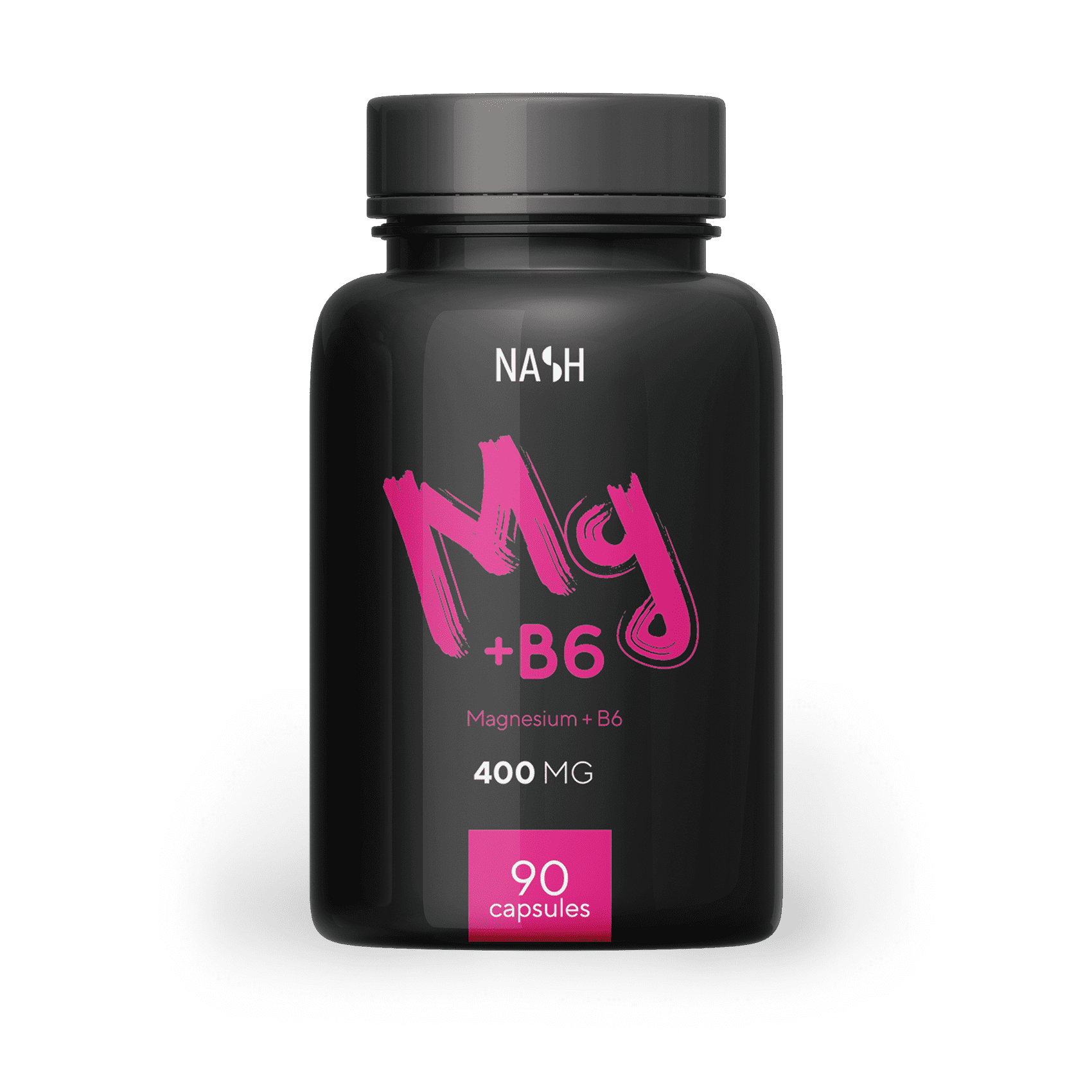 NASH Magnesium + B6
NASH Magnesium + B6 is a synergy of a complex of organic magnesium 400 mg and vitamin B6 to quickly eliminate stress and normalize the emotional background, reduce muscle weakness.
BUY
It contains important elements:
Magnesium 400 mg is an important mineral that acts together with vitamin B6. Protecting the nervous system from stress is one of the main functions of magnesium. It slows down the processes of excitation in the central nervous system, helps to reduce nervousness and irritability. Magnesium plays a key role in energy metabolism, nerve conduction, muscle contraction, strengthening immunity, optimizing calcium metabolism and is especially important for the health of the heart and circulatory system.
Vitamin B6 normalizes the nervous system and improves blood supply to the brain.
Magnesium in combination with B vitamins supports the functions of the nervous system, prevents depressive states, improves muscle function and increases efficiency during the day.
How does the Magnesium + B6 act?
We have developed a complex that increases resistance to external irritating factors. It consists of important minerals and vitamin B6, which play a vital role in normalizing the nervous system functioning.
Advantages:
Quick effect. Effective from the first use;
Optimal dosage. Perfect for regular intake;
Bioavailable form. For better assimilation by the body.
What will you get?
Reducing anxiety;
Body's resistance to stressful situations;
Relieving spasms and muscle disorders;
Improving the body's adaptive capabilities.
The active components complement and enhance the effect of each other.
What is included in the daily portion:
Magnesium citrate is used to increase the level of magnesium in the body. Magnesium as a citrate has a high bioavailability.

Magnesium oxide comes from ancient oceanic sediments and is a rich source of elemental magnesium (58% on average).

Magnesium is the main element of the human body. It is necessary for bones, proteins, fatty acid formations, cell formation, vitamin B activation, muscle relaxation, ATP formation (adenosine triphosphate).
Vitamin B6 promotes the absorption of magnesium, ensures its penetration and accumulation in cells, increases the beneficial effects of magnesium.
Ingredients: magnesium citrate, magnesium oxide, pyridoxine hydrochloride (vitamin B6), capsule (gelatin)
| | | | |
| --- | --- | --- | --- |
| Biologically active substance | Content, mg in 3 capsules | Daily consumption, mg | % of daily consumption |
| Magnesium | 400 | 400 | 100 |
| Vitamin B6 | 2 | 2 | 110 ¹ |
1 - does not exceed the upper permissible daily consumption level.
Nutritional value per 100 g: 0 proteins, 0 fats, 0 carbohydrates, 0 kCal.
Contraindications: individual intolerance, pregnancy, breast-feeding, it is necessary to consult a doctor before taking it.
Method of application and dosage: as an active dietary supplement or an additional source of magnesium and vitamin B6.
Recommendations for use: in a package of 30 servings. 90 capsules of 400 mg. Adults take 3 capsules a day with meals for one month, if necessary, the course can be repeated.
Storage conditions: store in a dry place inaccessible to children at a temperature not exceeding 25 °C
Expiration date: 24 months.
Net weight: 45 grams.
BADS. It is not a medicinal product.