MOBIO+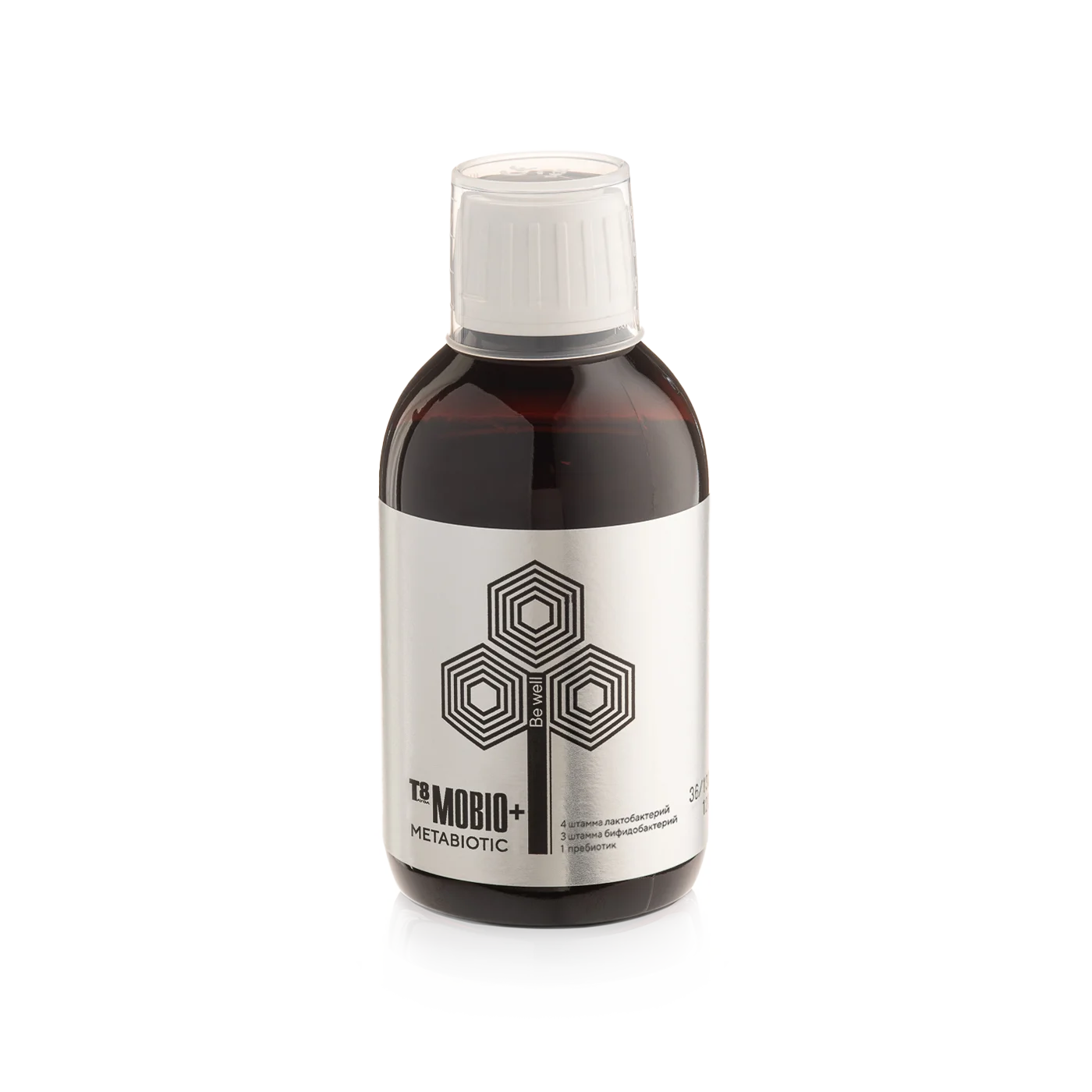 MOBIO+
T8 MOBIO+ is a metabiotic for normalization of intestinal function with high bioavailability.
BUY
Product description and its advantages:
T8 MOBIO+ stimulates the growth of its own, healthy microbiota, delivering nutrients for this reproduction.
It is important that T8 MOBIO+ does not conflict with a person's own microflora. Metabolic substances reach the large intestine unchanged, that is, they have high bioavailability and have an instant effect.
How does T8 MOBIO+ work?
Lysates of* Bifido and Lacto bacteria:
*Lysate (from the Greek "lysis" — "decomposition") is formed due to the destruction of bacterial cells. It includes particles of bacteriophages and fragments of the walls of microorganisms that do not have pathogenicity and, accordingly, do not pose an infectious risk to the body.
What is the fundamental difference between the products used to restore the intestinal microflora?
| | | |
| --- | --- | --- |
| Probiotics | intestinal products consisting of bifidobacteria and lactobacilli | Task: to populate the large intestine with representatives of normal microflora. Feature: Part of the accepted bacteria dies during the passage of the gastrointestinal tract. Probiotic cells can die when taking most antibiotics. |
| Prebiotics | substances of non-microbial origin, indigestible in the intestine | Task: to stimulate the growth and activity of beneficial bacteria in the colon. Feature: there are no live bacteria, thereby creating favorable conditions for increasing the population of "friendly" bacteria |
| Synbiotics | a combination of pro- and prebiotics | Task: to normalize the qualitative composition of microflora and increase the activity of beneficial bacteria. Feature: an unknown amount of pro-, prebiotics in synbiotics does not have any noticeable effect on the microflora and practically does not stimulate the reproduction of bacteria. |
| Metabiotics | metabolic products or structural components of probiotic microorganisms | Task: to have positive effects on the intestines and create favorable conditions for the reproduction of its own microflora. Feature: they do not conflict with their own microbiota, have high bioavailability - they reach the colon by 95% -97% unchanged (in probiotics - less than 0.0001%), they act "here and now" (they begin to work as soon as they enter the gastrointestinal tract) |
Useful properties of T8 MOBIO+:
Reduces inflammatory reactions in the gastrointestinal tract;
Normalizes intestinal pH;
Restores the intestinal microbiota after taking antibiotics and other harmful factors;
Protects against gastrointestinal disorders;
Suitable for the prevention of intestinal infections;
What you will get after using T8 MOBIO+:
Recovery: Your microflora regenerates after taking antibiotics, an unbalanced diet, climate change and other conditions.
Gastrointestinal TRACT: your intestine stimulates the growth of its own microflora and improves metabolism, which as a result contributes to improved digestion.
Bacterial environment: your body is protected from harmful bacteria (causing various diseases) and has resistance to their reproduction.
Assimilation of vitamins: your body more effectively assimilates vitamins, micro- and macroelements, for example, iron, calcium or zinc.
Immunity: your body has a general resistance to infections and stress.
Nervous system: Your body is resistant to stress and anxiety.
Protection: your body increases the resistance of its own microflora to pathogenic strains.
Active ingredients:
Propionibacterium freudenreichii metafiltrate - provides energy supply to the intestinal epithelium, has an antibacterial effect.
Bifidobacterium adolescentis metafiltrate - lowers cholesterol, protects gastrointestinal cells from infectious and toxic lesions;
Bifidobacterium bifidum metafiltrate - participates in the synthesis of B vitamins (B1, B2, B6, folic acid), vitamin K, stimulates the growth of its own bifidobacteria;
Bifidobacterium longum metafiltrate - suppresses the growth of pathogenic microorganisms and is used to correct microbiotic disorders;
Lactobacillus salivarius metafiltrate - stimulates the growth of its own microflora, has a high chelating capacity for iron ions, thereby restoring iron metabolism in the body;
Lactobacillus helveticus metafiltrate - normalizes carbohydrate metabolism, reducing insulin resistance;
Lactobacillus acidophilus metafiltrate - prevents side effects of taking antibiotics;
Lactulose is a prebiotic in this complex. Delivers the ingredients unchanged to the colon, restoring energy formation and normalizing pH balance (acid-base balance);
Instantam (gum arabic) - helps to stabilize cholesterol levels in the blood, eliminate toxins: binds heavy metals and radionuclides.
How T8 MOBIO+ works on MITO (mitochondria):
Our microflora and mitochondria are closely related.
Metabolites produced by the gut microbiota stimulate the synthesis of enzymes that mitochondria need to produce ATP. In addition, these substances affect the renewal of the mitochondrial pool in each cell.
It allows T8 MOBIO+ helping mitochondria to produce energy from carbohydrates or fatty acids as efficiently as possible.
How to use T8 MOBIO+:
Adults 2-3 times a day, 5 g (1 teaspoon or according to the label of the dispenser lid), the concentrate is pre-dissolved in a small amount of liquid (30 ml), excluding milk.
Composition: Bifidobacterium bifidum metafiltrate, Bifidobacterium adolescentis metafiltrate, Bifidobacterium longum metafiltrate, Lactobacillus acidophilus metafiltrate, Lactobacillus salivarius metafiltrate, Lactobacillus helveticus metafiltrate, lactulose, instantgam (gum arabic), metafiltrate Propionibacterium freudenreichii, glycerin (carrier), lactic acid (acidity regulator).
Contraindications: individual intolerance to the components. Before use, it is necessary to consult with a specialist.
Volume: 250 g.
Shelf life: 2 years.