STONE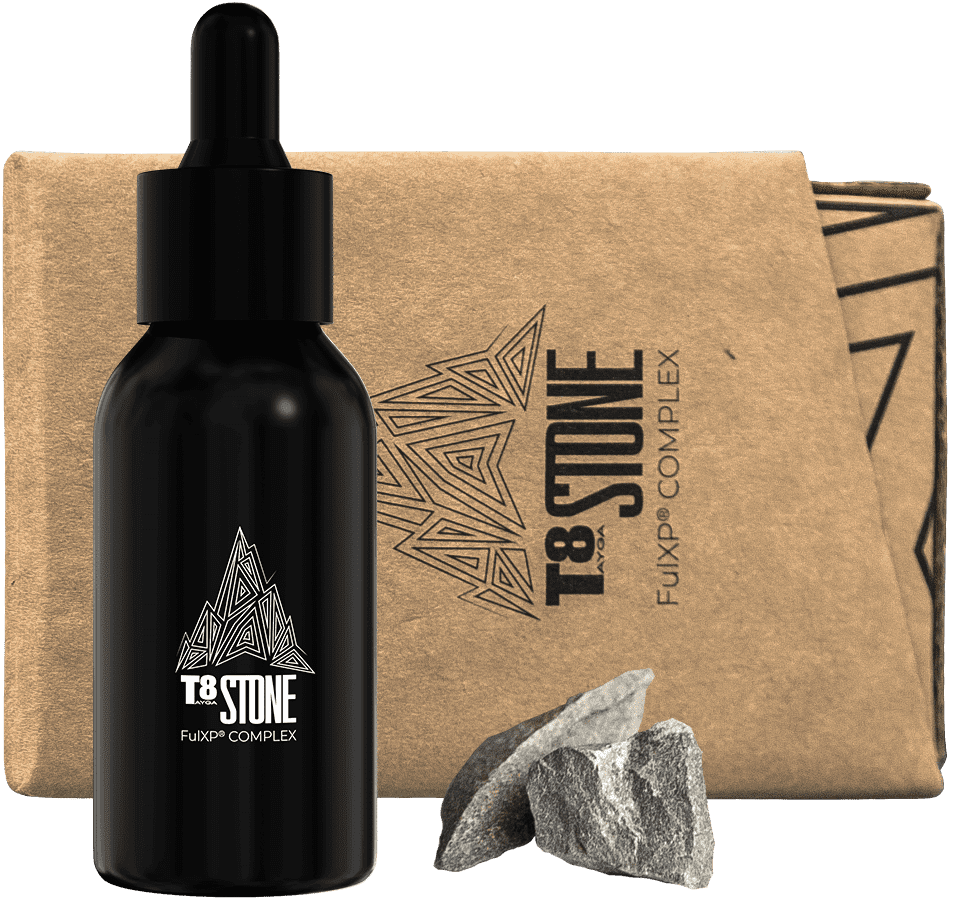 STONE
FulXP COMPLEX
Stone health from the heart of taiga
Buy
T8 Stone is a new generation product based on humic complex. Salts of humic, hymatomelanic and fulvic acids remove toxins from the cells, normalize microflora and metabolism at the cellular level and increase the absorption of nutrients by the cells, as well as their permeability.
T8 Stone is:

• A natural complex for the saturation of cells

• Optimization of metabolism at the cellular level

• Efficient elimination of toxins and cleansing of body cells

• Control of pathogenic microflora and affected cells

• Active support of the immune system and strengthening of the body

• Increased digestibility of nutrients
In addition, the effect of the T8 Stone becomes even stronger due to silver ions that have a health promoting effect for the whole body.
The silver ions can quickly penetrate into the cell, where they control the enzymatic systems of microorganisms. This explains the bactericidal, antibacterial and healing action of silver. Also, ion silver helps boost the body's defenses and to cope easier with colds; it increases physical efficiency.
To make a truly high-quality product, scientists of the Novosibirsk Academic Town (Akademgorodok) created a unique product line, which is practically unique and is used exclusively for the production of T8 Stone. The unique composition of the T8 Stone is protected by the exclusive FulXP COMPLEX.
T8 Stone means stone health from the heart of taiga.
How do you use it?
2 ml of the concentrate provide to the body a full day portion of humic complex microelements. We recommend to take 1 ml of the T8 Stone concentrate twice a day, in the morning and in the evening.
Just dissolve T8 Stone in a glass of water and recharge your body with energy of taiga !
Course of administration: 25 days, after which it is recommended to take a break for a week.
Attention! Do not use tap water!
To dissolve the product, it is recommended that you use bottled, filtered or boiled water.
Composition:
A complex of salts of humic, hymatomelanic and fulvic acids, nitrogen-sour silver (Ag +), distilled water.
The complex of humic acid salts includes (FulXP COMPLEX):
Salts of humic and ulmic acids

Salts of fulvic acids

Hymatomelanic acids

Nitrogen-sour silver (Ag +)

Total nitrogen (N)

Phosphorus (P)

Potassium (K)

Total sodium (Na)

Calcium (Ca)

Magnesium (Mg)

Magnesium (Mg)

Magnesium (Mg)

Zinc (Zn)

Copper (Cu)
Сapacity 50 ml.