30SECONDS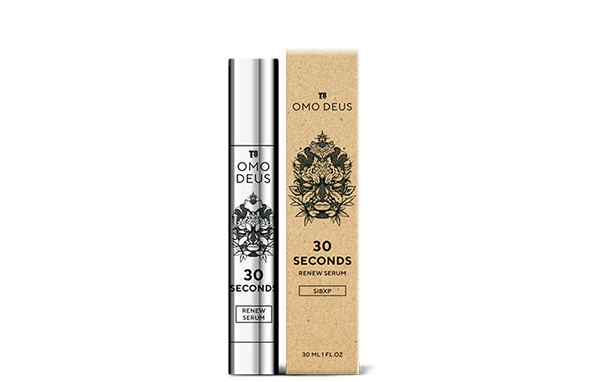 T8 OMO DEUS 30 SECONDS
Serum T8 OMO DEUS. An integrated approach to AntiAge products inside and out.

BUY
This restoring and strengthening serum is a concentrated cosmetic product that moisturizes and nourishes the skin and lifts your face's contour.
Ingredients: Butylene glycol, Glycerin, Niacinamide, Polysorbate 20, Urea, Pullulan, Cellulose gum, Carrageenan, Ceratonia siliqua gum, Sucrose, Sodium hyaluronate, Menthyl PCA, Lactamide MEA, Menthane carboxamide ethylpyridine, Hinokitiol, SibXP Complex, Fragrance, Disodium EDTA.
Storage: store at a temperature below +25°C, protect from sunlight.
Shelf Life: 36 months
Suggested Use:
1. Cleanse the skin of your face and neck.
2. Apply the serum and massage it gently into the skin of your face and neck.
3. Enjoy the effect.

Action:
• Instant lifting effect
• Regulates cellular metabolism
• Improves elasticity of the skin
• Smoothes the texture of the skin
• Synthesizes collagen
• Moisturizes
• Brightens

This product is good for everyday usage.
How does it work?
Five powerful ingredients:
Niacinamide – is one of the three most effective ingredients in cosmetics. It is responsible for the stimulation of collagen synthesis and improvement of skin barrier functions. It helps to reduce transepidermal water loss through the epidermis and reduces pigmentation, improves elasticity, soothes the skin.
Pullulan – effectively smoothes age-related wrinkles, keeps the moisture.
Carrageenan – stimulates cell regeneration, soothes the skin and has a light bactericidal effect. Helps to detoxify the organism and has an anti-oxidative effect.
Hinokitiol – is one of the most powerful bactericidal components. Protects the skin from the aggressive environment.
SibXP Complex – is an innovative complex. It is the combination of the three ingredients: polyprenols, fir cell juice and CGNC (Conifer Green Needle Complex). Restores damaged cells, eliminates free radicals, provides cells with oxygen, tones.
Volume: 30 ml
Shelf life: 36 months.