T8 ERA TO GO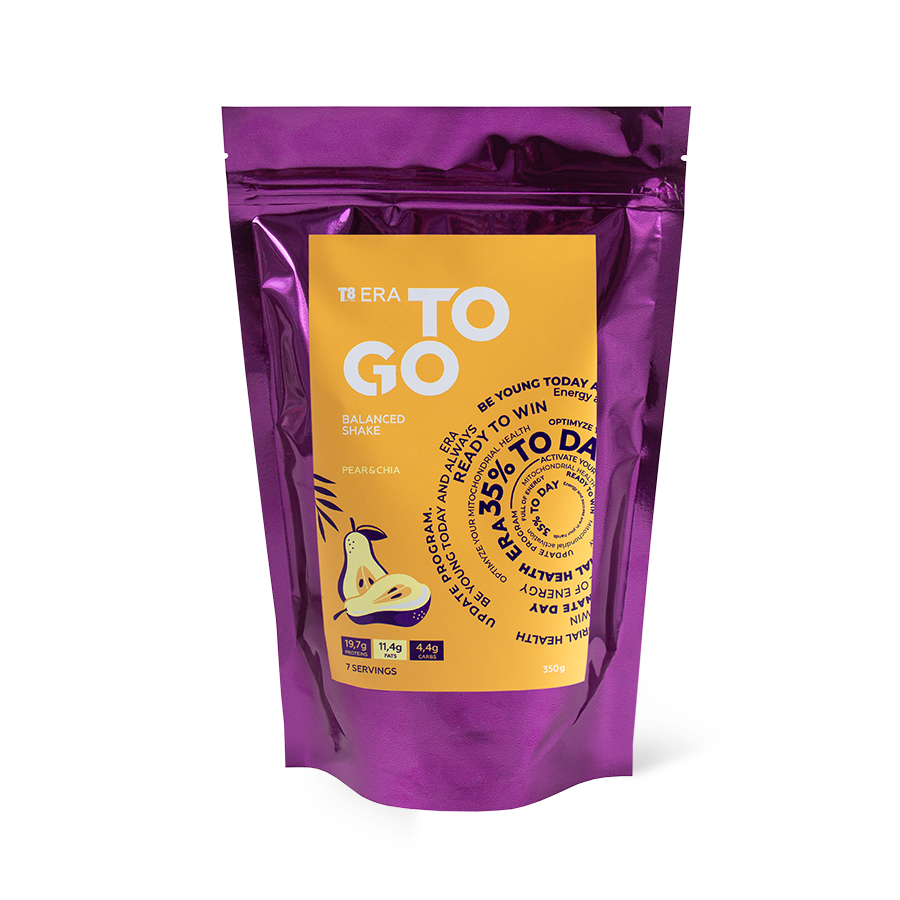 T8 ERA TO GO Pear & Chia
T8 ERA TO GO Pear & Chia is an energy protein mix with pear flavor and chia seeds based on pea protein, polydextrose (prebiotic) and coconut milk to help you transition to and maintain a low-carb, fat-rich diet, replenishment of protein and energy balance, while also maintaining an active lifestyle and body weight control.
BUY
Product description and benefits:
T8 ERA TO GO Pear & Chia is a functional protein product enriched with 13 vitamins and 4 mineral elements. It suits those who follow the principles of good, low-carb nutrition, adhere to vegetarianism, do sports, love healthy drinks and delicious desserts.
The main advantage of the energy protein mix is that a portion of T8 ERA TO GO Pear & Chia replaces one full meal of protein food. This is especially important for people who are physically active and need an additional source of protein. The product is suitable for those who cannot always have lunch, who need to have a snack on the go, who need to compensate for protein deficiency after strength training.
T8 ERA TO GO Pear & Chia is convenient and fast to use. To prepare a healthy and delicious cocktail, you only need water and the energy protein mix that completely dissolves to a homogeneous consistency.
You can improvise with the T8 ERA TO GO Pear & Chia energy protein mix, inventing new recipes for drinks and dishes. Create based on T8 ERA TO GO Pear & Chia nutritious smoothies and smoothies with additives! Make healthy pastries without harming your shape and protein ice cream with berries or fruits.
Health benefits of T8 ERA TO GO Pear & Chia:
replaces a full-fledged intake of protein food;
helps control your appetite and gives you a quick feeling of satiety;
helps you lose weight;
enhances physical activity and endurance;
provides quick bulking during physical exertion;
restores energy after training;
encourages the development of beneficial intestinal microbiota;
normalizes the digestive process;
lessens the nervous system's reaction to stressful circumstances;
strengthens bone tissue;
boosts the immune system;
enhances energy production in mitochondria.
What you will get if you use T8 ERA TO GO Pear & Chia:
Nutrition: a comfortable transition to LCHF and the maintenance of healthy nutrition.
Weight control: appetite lessens and weight returns to normal.
Muscles: muscular mass rises, as does physical endurance.
Bones: bone tissue is strengthened, the risk of joint inflammation is reduced.
Intestines: intestinal function is restored, the microbiome of the small intestine is normalized.
Brain: brain function and cognitive functions improve.
Nervous system: the emotional condition is normalized.
Heart and blood: the risk of cardiovascular diseases is reduced, the level of sugar (glucose) in the blood is stabilized.
Recovery: general well-being improves and resistance to physical and mental stress is restored.
Mitochondria: the integrity of mitochondrial membranes is restored, the production of energy substrates (ATP) increases and the body's defenses are activated.
Active ingredients:
Pea protein promotes quick muscle mass growth, weight loss, endurance, and blood sugar regulation.
Polydextrose (prebiotic) promotes the growth of good intestinal bacteria, regulates metabolism and digestion, and is used to avoid gastrointestinal diseases.
Coconut milk — promotes weight loss, stimulates the brain and supports the immune system. Coconut milk contains a high concentration of medium-chain fatty acids.
Vitamin and mineral complex strengthens the immune system, normalizes and improves the functioning of the gastrointestinal tract and has an antioxidant effect.
Natural fibers aid to decrease appetite, offer a sense of fullness, and promote meal absorption.
How T8 ERA TO GO Pear & Chia works on MITO (Mitochondria):
One of the main active components of T8 ERA TO GO Pear & Chia is coconut milk powder, which contains MCT oil. MCT oil consists of medium chain fatty acids — caprylic (C8) and capric (C10). Medium-chain triglycerides, caprylic (C8) and capric (C10) acids easily enter the liver, where they are used by the body for energy (ATP) and ketone synthesis.
Polydextrose prebiotic, restoring the intestinal microbiota, helps pea protein to be absorbed faster, which contributes to an accelerated process of energy activation.
Vitamins A, C and E have an antioxidant effect, protect cells from oxidation, help restore cell membranes and block the release of free radicals that can destroy the cellular structure of the body.
B vitamins are essential in cellular metabolism, and PP is involved in numerous oxidation-reduction reactions.
How to use the product: to prepare a cocktail, pour 200 ml of water into a shaker, pour 50 g of the mix (4 measuring spoons), then shake the drink until smooth and let it brew for a few minutes.
Ingredients: polydextrose, coconut powder, pea protein (isolate), erythritol, chia seeds, yogurt powder, coconut fat, Mascarpone cheese powder, rice isolate, dry pear fruit extract, vanillin, Thixogam S complex food additive, Floracia soluble dietary fiber (acacia gum, fructooligosaccharides from chicory), Fibregam soluble dietary fiber acacia gum, Pear flavor, salt, magnesium bisglycinate, zinc lactate, selexene (selenium), chromium picolinate, and vitamin complex (A, B1, B2, B3 (PP), B5, B6, B7 (H), B9, B12, C, D3, E, and K).
| Vitamin | Content quantity (mcg) |
| --- | --- |
| С | 7600 |
| A | 600 |
| D3 | 10.8 |
| E | 5400 |
| B1 | 43 |
| B2 | 560 |
| B6 | 420 |
| B12 | 1 |
| K1 | 42 |
| B3 | 2420 |
| B9 | 40 |
| B5 | 2770 |
| B7 | 13 |
| Amino acids | g/portion |
| --- | --- |
| Isoleucine | 1.2 |
| Leucine | 2.0 |
| Lysine | 1.8 |
| Phenylalanine + tyrosine | 2.2 |
| Threonine | 1.0 |
| Valine | 1.2 |
| Tryptophan | 0.2 |
| Cystine + methionine | 0.5 |
| Histidine | 0.6 |
| Minerals | mg / serving | % of ALC |
| --- | --- | --- |
| Magnesium | 200 | 50 |
| Zinc | 6 | 50 |
| Selenium | 0.0275 | 50 |
| Chrome | 0.025 | 50 |
| Nutritional value | 50 g of dry product | 100 g of dry product |
| --- | --- | --- |
| Proteins, g | 19.7 г | 39.4 г |
| Fats, g | 11.4 г | 22.8 г |
| Carbohydrates, g | 4.4 г | 8.8 г |
| Energy value, kJ / kcal | 833.8 / 199 | 1667.6 / 398 |
Contraindications: individual intolerance to the components.
Net weight: 350 g (7 servings).
Shelf life: 2 years.