T8 OMO DEUS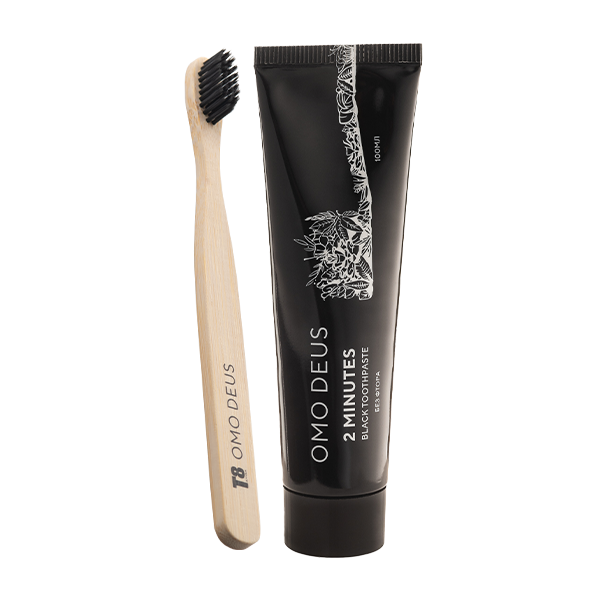 T8 OMO DEUS 2 MINUTES BLACK
T8 2 MINUTES is black whitening toothpaste with FulXP Complex, birch charcoal and juniper extract.

BUY
It was created for people, who:
optimize the time for their beauty
want to shine with the whiteness of their smiles
care about the whiteness of their teeth
value fresh breath
We have developed this stylish T8 2 MINUTES toothpaste
whitening up to four shades
the juniper extract keeps your gums healthy
actively freshens your breath
How do the ingredients work?
Birch charcoal whitens enamel and absorbs odours
The juniper extract has a bactericidal effect
FULXP Complex provides cleaning at the cellular level
T8 2 MINUTES is a reminder of how often you should brush your teeth.
It is paraben- and fluoride-free.
Ingredients: Aqua, Hydrated Silica, Glicerin, Sorbitol, Sodium Cocoyl Glutamate, XYLITOL, Papain, Сarbo activates, Cellulose gum, Stevia Rebaudiana Extract, Calcium Citrate, Mentha piperita Oil, Menthol, Xanthan gum, JUNIPERUS COMMUNIS (JUNIPER) EXTRACT, Trehalose, Potassium sorbate, Juniperus communis oil, Aroma, O-CYMEN-5-OL, Retinyl Palmitate, FulXP Complex, Tocopherol, Pyridoxine.
The set comes with a bamboo toothbrush.
Contraindications: individual hypersensitiveness to any of the ingredients.
Shelf life: 3 years.