ViBox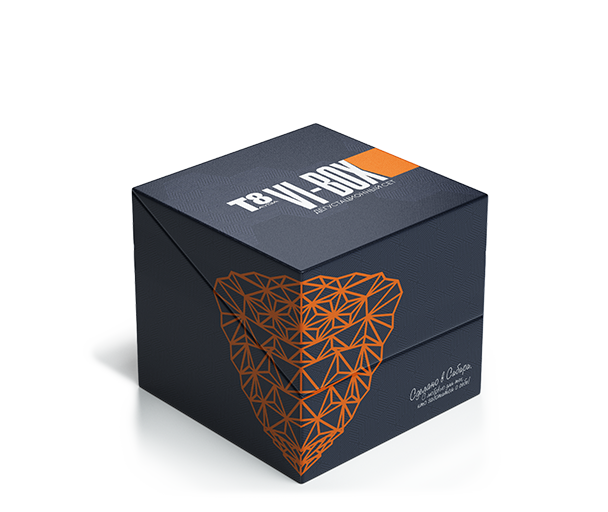 VI-BOX
T8 VI-BOX is the first VILAVI tasting set

BUY
Test drive of VILAVI TOP FIVE products Optimizes time and effort for more efficient business management.
It helps to:
Make your presentation more effective,
Speed up the decision to join the VILAVI team,
Get acquainted with the taste qualities of the product in the test mode.
How to use it?
The set has 5 top products and cards to them. One card contains a short description of the product, its benefits, a QR code for a quick transition to the product tab in the VILAVI Store, a field for filling in the representative's ID. The VI-BOX also contains an accompanying insert brochure with a description of all product lines. It is suitable for a visual acquaintance with the complete VILAVI product collection.
VI-BOX includes test mini-doses of products:
T8 EXTRA (1 ml), 5 pcs. - coniferous recovery complex to optimize all body systems
T8 STONE (1 ml), 5 pcs. - humic complex to optimize metabolism at the cellular level
T8 BRAIN OIL (10 ml), 5 pcs. - MCT oil with polyprenols for fast recovery, a beautiful body and a high IQ
T8 MOBIO (5 ml), 5 pcs. - a delicious metabiotic to optimize bowel function
T8 EXO Cherry-Berry (9 g), 2 pcs. - an alternative energy source with cherry flavour
T8 EXO Orange (9 g), 2 pcs. - an alternative energy source with orange flavour
T8 EXTRA
Ingredients: SibXP Complex (Siberian fir cell fluid, polyprenol concentration (85%), CGNC coniferous complex). Volume: 5 ml
T8 STONE
Ingredients: humic, himatomelanic and fulvic acid salts, nitric acid silver (Ag +), distilled water. The humic acid salt complex (FulXP COMPLEX) contains:
Humic and ulminic acid salts
Fulvic acid salts
Himato-melanic acids
Nitric acid silver (Ag +)
Total nitrogen (N)
Phosphorus (P)
Total potassium (K)
Total sodium (Na)
Calcium (Ca)
Magnesium (Mg)
Iron (Fe)
Manganese (Mn)
Zinc (Zn)
Copper (Cu)
Volume: 5 ml
T8 BRAIN OIL
Ingredients: MCT oil, polyprenols.
Volume: 50 ml
T8 MOBIO
Ingredients: Bifidobacterium adolescentis, lactobacillus acidophilus, lactobacillus salivarius, lactobacillus helveticus, lactulose, instant gum (Arabic gum), propionibacterium freudenreichii. Excipients: glycerin (carrier), lactic acid (acidity regulator).
Volume: 25 ml
T8 EXO Cherry-berry
Ingredients: BHB Calcium, BHB Magnesium and BHB Sodium, natural identical flavour "cherry", potassium citrate, citric acid, malic acid, beta carotene
Volume: 18 ml
T8 EXO Orange
Ingredients: BHB Calcium, BHB Magnesium and BHB Sodium, natural identical flavour "orange", potassium citrate, citric acid, malic acid, beta carotene
Volume: 18 ml